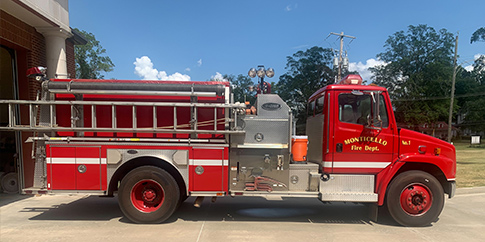 The Monticello Fireman's Association and University of Arkansas, Monticello are pleased to announce a new scholarship opportunity for students of Drew County. The inaugural scholarship program was developed to promote educational opportunities supported by Monticello Fireman's Association and is open to all county residents.
"We're deeply honored and excited to partner with UAM to offer the Monticello Firemen's Association Endowed Scholarship, available to use at any UAM campus in Monticello, Crossett, and McGehee." said Joey Norton, MFA President. Independent from the City of Monticello, the Monticello Fireman's Association formally began in 2012 and was started by the full-time and volunteer members of the local Fire Department in order to foster better safety standards and provide a professional service to the citizens of Monticello. History is important to us because it guides us into the future.
Our Goals include supporting the local community, fostering and encouragement of higher degree of skill and efficiency, the commitment to providing the public with a professional highly trained staff, the pursuit of safety, the cultivation of friendship among its members, the elevation and improvement of the moral, intellectual, social, and economic conditions of its members. MFA is funded through membership dues and traditional fundraising throughout the community. The Association receives no funding from the City of Monticello. MFA charitable giving to local organizations include DHS Angel tree Shop with a COP, The CALL, and MDA's Fill the Boot. MFA offers temporary relocation assistance to family's displaced by fires.
For more information, please contact Joey Norton, MFA President at 870-723~0041 or monticellofiremansassociation@gmail.com
Thanks,
Joe Meeks
MFA Vice President